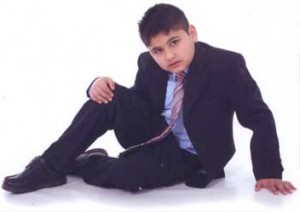 "Grandma, open the door," cried seven year-old Jatin as he saw his aunt's car outside the house. His grandmother Sushma's heart leapt with joy – Jatin had just uttered his first ever sentence.
"I saw the words forming in my head as my grandson spoke," says Sushma, "and I wanted to write them across the sky!"
Soon after Jatin's first birthday, Sushma began to suspect that all was not right with him, but Jatin had to move away with his Mother and his grandparents saw little of him over the next two years. During this time, Jatin was diagnosed as Autistic and eventually his Mum couldn't cope any more. Just after his third birthday, he came to live with Sushma and her husband, Prem.
"He couldn't eat by himself or sit still and he made no eye contact," says Sushma. "He would scream and throw his head back violently and didn't try to communicate at all."
Sushma found was beginning to despair. "Looking after him was so incredibly hard. I can't even begin to describe what it was like."
Hope
After two years of caring for her grandson round-the-clock, she picked up a magazine that featured the work of a charity that seemed to offer hope.
"I read an article about a child with the same symptoms, but whose life had been turned around by a remarkable technique offered by this charity."
The charity was BIRD.
"We felt BIRD offered the only real hope. I spoke to them and it was such a relief that someone seemed to know what I was talking about."
When the clinicians first assessed Jatin, they diagnosed him as having 91% "organic brain dysfunction.
"This is an extremely high score," explains Clinical Director, Dr David McGlown. "Jatin's reflexes hadn't developed from the baby stage. Many of the primitive reflexes present at birth should be gradually shed as children mature, but in some cases, this process is inhibited. A typical level would be under 30%."
The clinicians explained the concepts behind their treatment and prescribed a set of exercises for the couple to practice with Jatin for half an hour each day. The routine was designed to 'retrain' Jatin's brain to process information correctly. The exercises involve co-ordinating movement in different parts of the body and are not physically strenuous.
"Jatin didn't like doing the exercises at all at first," says Sushma, "though he got gradually better at it."
After six months, Jatin's score measured 76%. "We began to notice changes in his behaviour and he was able to stop wearing nappies for the first time ever," says Sushma.
Six months later, Jatin was a lot calmer. He could sit and concentrate on an activity and was beginning to talk for the first time.
Around this time, Jatin spoke the words that are indelibly etched into his grandmother's memory.
"When he said, 'Grandma, open the door,' I really knew there was true hope for Jatin to become a 'normal' boy. By this time, he was really enjoying doing the exercises and friends were noticing huge changes in him."
Jatin is now two years into his treatment programme and his score has radically improved to 47%.
"Life could be a dream."
"He's totally different now," says Sushma. "It's like we've had two grandchildren; one before we found BIRD and the one since.
"He recently treated us to a rendition of 'Life could be a dream sweetheart' – all the way through. A few months before, this would have been impossible."